If you can be a critical thinker and have good communication skills, you are a good employee for the next generation of professionals.
Dr. Mara Loeb is the Graduate Coordinator for the Communication Program within the School of Humanities at the University of Louisiana. As Graduate Coordinator, she is the first advisor for new students, as well as a mentor, as they enter the program and the community. She is also the first line of communication for those interested in learning more about the Strategic Communication Master of Arts degree at the University of Louisiana Monroe. She teaches graduate courses in Qualitative Research Methods, Intercultural Communication, and the Proseminar for all new graduate students. Her special areas of interest are Conflict Resolution, Storytelling, and Communication and Culture.
Dr. Loeb earned her Bachelor of Arts degree from The University of Northern Iowa (UNI), with a double major in Communication & Theatre and Art Education. She continued at UNI to earn a Master of Arts in Speech Communication. Her Ph.D. is from Southern Illinois University at Carbondale, where she was awarded a Doctoral Fellowship. Before her academic career, Dr. Loeb was active in regional theater in Minneapolis, MN; Portland, OR; and Victoria and Vancouver, B.C., Canada as an actor, director, costumer, and member of the Board of Directors of 2 of the theater companies. Her Doctoral focus was Performance Studies as she examined the role of family stories in the transmission and maintenance of family culture. As she says "It's all communication!"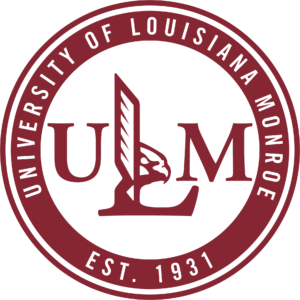 For additional information about ULM masters in communication programs visit the following:
Why come to ULM for your degree?
Your experience at ULM will allow you to achieve a great degree while having personal attention due to the size of our program.  Our thriving undergraduate program supports a diverse and professional faculty, which allows a smaller and more personal graduate program.  Our duel options of Thesis or Exit Project allow students to proceed to a Doctoral program (Thesis) or join the workforce with a professional level project already on their Vita (Exit Project).  Finally, our flexible degree design allows you to focus some of your classes in areas of personal interest to provide the best foundation possible for diverse career paths.
Tell us about the ULM communication program class size and curriculum.
Our class sizes vary from 6-20, allowing personal faculty relationships with students and a supportive student community of practice.  The curriculum has a required core of theory and methods classes but has some flexibility to tailor a student's courses to their professional goals.
The University of Louisiana at Monroe has a 30 credit hour, campus-based Master of Arts in Communication program. Eighteen hours (6 classes) of the 30 total required credits must be at the 5000 (highest) level. Every student takes the following core theory and research classes in order to have a solid foundation in the discipline.  These also fulfil half the required 5000 level hours.
Professional Seminar (0 credit hours): An introduction to the degree, the history of the discipline, and college level research. Students learn about the graduate program's processes, academic requirements, and best practices.
Qualitative Research Methods COMM 5002 (3 credit hours): Students learn how to conduct a systematic inquiry about communication topics, including textual analysis, ethnography, phenomenology, and language studies.
Quantitative Research Methods COMM 5001 (3 credit hours): Students learn the methods and strategies of designing and conducting empirical studies in communication, including identifying problems and inquiries that can be addressed through quantitative data collection and analysis
Communication Theory COMM 5010 (3 credit hours): This class provides students with a foundational overview of the major theories and principles of human communication, and how they dictate human relationships in multiple environments and situations.
These core courses are important for students to get a strong understanding of different research methodologies and their purpose.
Students' remaining hours are chosen from the courses listed below, with the guidance of their Major Professor, to tailor their degree to prepare them for the career of their choice.  We pride ourselves on flexibility of degree design to provide students with experience in Advocacy, Journalism, Digital Media, or Public Relations, as their goals require.
Each student will also either write a thesis COMM 5099 (6 credit hours) or complete a professional level Exit Project COMM 5093 (3 credit hours).
For the remaining hours 12-15 hours, students choose from the following 3 credit hour classes with the option of 6 hours from outside the program:
COMM 4004 Intercultural Communication
COMM 4060 Public Relations Campaigns
COMM 4062 Advanced Studies in Small Group Communication
COMM 5020 Political Communication
COMM 5026 Communication in Gerontology
COMM 5041 Communication and Gender
COMM 5044 Advanced Studies in Organizational Communication
COMM 5050 Interpersonal & Conflict Communication
COMM 4052 Criticism of Contemporary Communication
COMM 5071 Creative Media Strategies and Techniques
COMM 5080 Communication Law and Ethics
COMM 5090 Internship
What makes our program special?
Our program prepares students to represent themselves very well to prospective employers.  With a strong base in theory and research practices and proof of their abilities through either the Exit Project or Thesis route, they have evidence of their capabilities.  In surveys of employers and agencies, communication skills – written and oral- always appear in the top five requirements for employment!  Since job descriptions change so rapidly, it is often communication skills that determine if a person is adaptable to new requirements, and this is frequently more important than their major.  We have graduates of our program at universities and working at all levels of management, including CEO of their own company.  Monroe, La. is also home to 2 Fortune 500 companies who support our programs with internships and employment opportunities.
If you can be a critical thinker and have good communication skills, you are a good employee for the next generation of professionals. That is why Google, in a recent study, concluded that they needed more people from the humanities--people who can communicate impactful ideas will help companies thrive.  We prepare our students to be adaptable for the real world.  This translates into real income over time. We have a great track record of student success post-graduation. One of our students was the Vice President of Public Relations for Fitbit, and now he has started his own company.
Our face-2-face Masters degree requires that students complete either a Thesis, under the guidance of their Major Professor and with the support of their committee, or a professional level Exit Project.  The Thesis option is recommended for students planning to continue to a Doctoral degree.
The Exit Project option is especially adaptable to the goals of each student.  Occurring in the final semester, the student will conduct research on a major project, write a paper detailing it, and present their results in a forum for faculty and interested students.  In the past, these have varied from public relations campaigns to rhetorical studies. For example, one student designed a public relations campaign for Tom's shoes, where she arranged for a promotional day on campus that included shoe sales, advertising, etc. The committee then critiqued her process and final result. In their paper, students must document the theory and literature they drew upon, the process followed, and conclusions or discoveries made.  They have the support of their Major Professor and committee members for this project as well.  Both the Thesis and Exit Project options assure that the student graduates with a proof of their mastery in an aspect of Communication.
The flexibility of our program is also a definite advantage. Our students can choose a focus, and have the resources to explore all facets of a given topic. We have opportunities for film making.  We have a TV lab where the students record for the student TV station, which also allows them to direct. They can edit films, they can screen write. It's a very hands-on degree. As far as Advocacy, which is my area, our students have many opportunities to complete projects in the community. For example, some of our students developed a fundraising campaign for a local orphanage. They also held an STD awareness and prevention campaign on campus. There are numerous opportunities both in the classroom and outside of the classroom for students to engage with hands-on projects and activities.
What job-related industries are students focusing on post-graduation?
We've got a number of people who are teaching at universities, working in governmental offices, the Department of Defense, armed forces, radio, and television, Louisiana Public Television and in the governor's office.  Our students may intern in Washington, D.C. summers with our state representative. One Public Relations graduate was a Vice President for Fitbit before starting his own PR company.  We have got success stories that are wonderful.
Our campus has a dedicated Career Services office with experienced staff available to assist in the writing of resumes and cover letters, job search, and interviewing skills.  We also host Job Fairs each semester for students to meet representative from businesses and recruiters from throughout the region.  Workshops on a variety of other skills are also presented, at no charge, throughout the academic year.
We've got a number of people who are teaching at universities, working in governmental offices, the Department of Defense, armed forces, radio, and television, Louisiana Public Television and in the governor's office.
What type of Internship opportunity does ULM provide?
Graduate students also have the option of an Internship for 3 credit hours.  This is an opportunity for professional experience before they graduate.  Monroe, La. is home to 2 Fortune 500 companies that have been known to provide internships to our students, but many other opportunities can be found as well.
The Masters program at ULM is growing, but competition is high for Graduate Assistantships and the well-prepared student will have their application completed by the end of January as assistantship offers are made in on March 1st.  A carefully written statement of goals (accompanying their application) is an opportunity for prospective students to showcase their focus, organization, and level of writing skill.
Assistantships are available in many other departments and offices.  Students should visit http://www.ulm.edu/gradschool/gapositions.html frequently to see openings.
Tell us about your faculty. What characteristic do we focus on to lead our programs?
All of our faculty are experts in their field, and most of them hold doctoral degrees in their area of research.  The diversity amongst our faculty and their research interests is also a strength, as it enables students to find advisors who match their own interests and goals. We have specialists in Communication Advocacy, Journalism, Public Relations, and Digital Media.
Each student will have a committee composed of a Major Professor and 2 committee members.  Firm and supportive leadership and guidance are the roles they take on and the students themselves select which faculty to invite to their committee.
What geographical outreach does program have? Are students more local or out-of-state?
Our students come from the immediate area, the 3 state region, the rest of the U.S., and around the world.  It is not unusual to have 30% of a class composed of international students.  This gives students opportunities to experience diversity and also create broad networks.
What is the goal for the online degree? Where so you see it in 5 years?
University of Louisiana at Monroe also offers an online Master of Arts in Strategic Communication.  Although it requires completion of 33 credit hours, it is different from our face-to-face degree in several ways:
Courses are 8 week classes, allowing a faster completion of the degree. (18 months instead of 2 years).
There is no Thesis or Exit Project option.
Courses are prescribed, with only one exception* and as a result the program is not as flexible.
The courses include the following:
COMM 5000 Proseminar (0 ch)
COMM 5002 Quantitative Methods (3)
COMM 5010 Communication Theory (3)
COMM 5050 Interpersonal & Conflict Comm (3)
*COMM 5044 Organizational Communication (3) or

COMM 5060 PR Practices (3)

COMM 5052 Criticism of Contemporary Communication (3)
COMM 5001 Qualitative Methods (3)
COMM 5041 Communication and Gender (3)
COMM 5080 Communication Law & Ethics (3)
COMM 5084 Persuasion (3)
COMM 5071 Creative Media Strategies & Techniques (3)
The program's courses are mainly asynchronous (not at one specific time) to allow students the flexibility to take their classes when it best fits their schedule.