Online Master's in Communication Disorders Programs – Including Speech Pathology in 2023
A particularly rewarding area of graduate-level communications, the Master's in Communicative Disorders (MCD) degree program prepares students to work with children and adults who struggle to communicate in both verbal and non-verbal ways. These include language disorders, speech sound disorders, stuttering, and social communication disorders. Disorders of this type can be caused by many things, including brain trauma, autism, intellectual or developmental disabilities, and more. Students enrolled in an MCD program learn via academic courses and clinical experiences. Research is often emphasized as well, as graduates of this type of program often go on to work in clinical settings.
The following career titles are available to those who hold a Master's in Communicative Disorders:
Speech-Language Pathologist
Speech/Hearing Therapist
Clinical Supervisor
Educator (speech/language or special education)
Agency Director
Online programs are now readily available for those who are currently working full-time in the field and require flexibility in order to obtain a post-baccalaureate communicative disorders degree.
2023 Best Online Masters in Communication Disorders Programs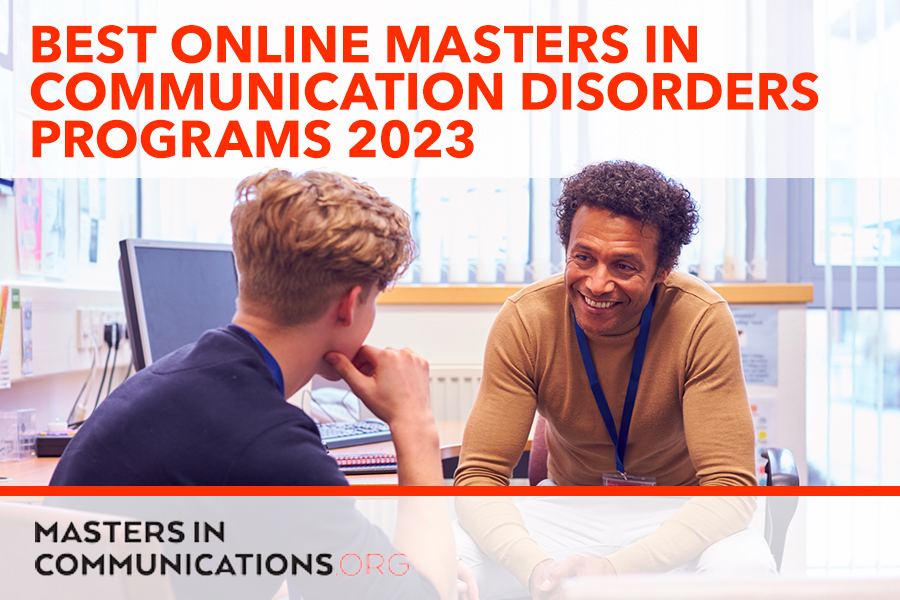 With Master of Communication Disorders (MCD) programs encompassing so many promising career pathways, from Speech-Language Pathology to Rehab Audiology and so much more, it's no wonder that so many graduate students are seeking out the best and brightest programs. With online MCD programs growing in popularity, students need to know what a quality program looks like. That's why we've ranked the Top 5 Best Online Master's in Communication Disorders programs across the country, based on factors such as cost, program options, graduates produced, and more. See our 2023 top picks below to get started.
#1) California State University, Northridge – Northridge, CA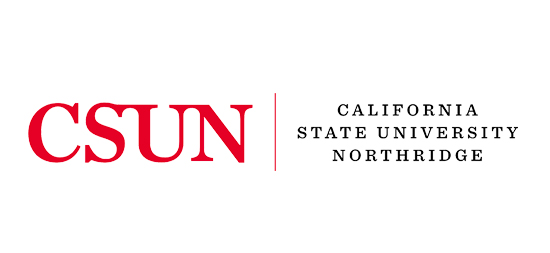 The Tseng College at California State University's Northridge campus offers students a fully online Master of Science in Communication Disorders. This accredited distance learning program is delivered in a cohort format and readies students for Speech-Language Pathology careers. The curriculum includes courses such as Pediatric Audiology, Computer Applications in Communication Disorders, Structural and Neurogenic Speech Disorders, and many others. Students complete a pediatric clinical practicum as well as an adult externship for a hands-on practice experience.
Learn more about CSUN's program here.
Highlights:
A program designed to be completed in 3 years (10 semesters)
New cohorts begin at the start of the Spring semester
All clinical practicum experiences are arranged in the student's local area
Tuition:
#2) University of Wisconsin, Eau Claire – Eau Claire, WI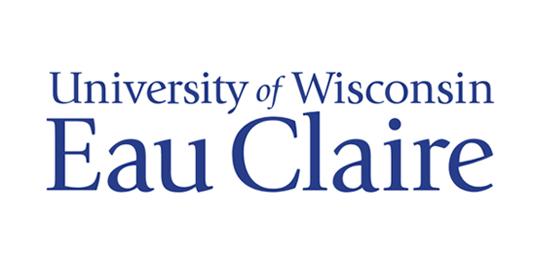 Students can complete the University of Wisconsin - Eau Claire's online Master of Science in Communication Sciences and Disorders in three years of part-time study. Students must take between 2-6 credits each term, making this online program particularly flexible. This competitive, rigorous program requires a short (one-week) on-campus residency each summer. The curriculum covers topics such as Dysphasia, Fluency Disorders, Language Assessment, and more.
Learn more about the University of Wisconsin's program here.
Highlights:
New cohorts begin in June
No GRE required
375 direct client-contact hours required
Tuition:
$707 per credit for the first year; rates may increase up to 5% per year
#3) Nova Southeastern University – Fort Lauderdale, FL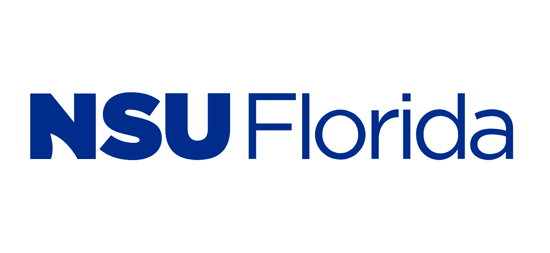 NSU Florida's Master of Science in Speech Language Pathology provides an online pathway for students interested in leading communication healthcare and education teams. This program prepares students to work with diverse populations, including children and adults, with speaking and language challenges. The 54-credit curriculum takes 3 years to complete and includes courses such as Speech Sound Disorders, Augmentative and Alternative Communication, Language Disorders in Adults, and much more. Approximately 400 hours of supervised clinical contact hours are completed as part of the program, and online students benefit from NSU Florida's clinical partnerships throughout the country to find suitable externship placements.
Learn more about NSU Florida's program here.
Highlights:
No GRE needed
Evening/weekend schedules available
Small class sizes for individual attention
Tuition:
#4) Emerson College – Boston, MA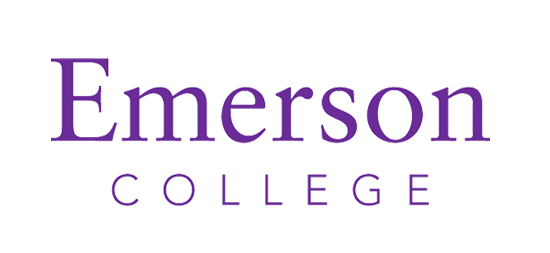 Emerson College's online Master of Sciences in Communication Disorders prepares students for national certification and licensure in speech-language pathology. The robust curriculum focuses on assessing and treating a range of communicative issues in patients across the lifespan and is delivered by experienced, world-class faculty. Enrolled students also complete one virtual clinical placement as well as four community placements at local sites. Emerson's virtual campus connects students with colleagues, professors, and classmates to create a close-knit community. Two weekend-long on-campus immersion experiences are required.
Learn more about Emerson College's program here.
Highlights:
No GRE required
The 5-term track can be completed in 20 months; the 9-term track can be completed in 36 months
Access to Emerson's student support network, including technical support, faculty advisor, field placement specialist, and more
Tuition: $1,349 per credit
#5) James Madison University – Harrisonburg, VA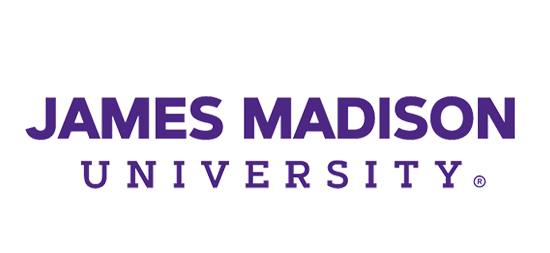 Virginia-based James Madison University provides students with an online M.S. in Speech-Language Pathology. This 3-year program consists of both synchronous and asynchronous online coursework hosted via WebEx on Canvas. The rigorous curriculum is designed with flexibility in mind for the adult learner who may have career or family commitments and aims to prepare students to work with disorders of human communication and swallowing.
Learn more about JMU's program here.
Highlights:
No GRE required
While the program is online, some clinical practicum experiences must be completed on-campus
Students complete a minimum of 375 supervised clinical hours
Tuition:
$529 per credit for in-state students
$1,251 per credit for out-of-state students
Choosing an Online Master's in Communication Disorders Program
Choosing the right MCD program is extremely important, as it sets the stage for students to reach their academic and professional goals. Since prospective students have already obtained a BA or BS in a related field, many are already working full-time and need to work their post-grad education into their busy schedules. In these cases, online and hybrid programs are ideal matches, but there are a few things that all students should consider before selecting an MCD program.
Certification, Licensure, and Accreditation
Many students choose to earn a master's in communication disorders so that they can become speech pathologists. In this case, students will need to ensure that their program of choice's curriculum satisfies the academic and clinical requirements to receive certification from the American Speech-Language-Hearing Association (ASHA). They should also ensure that their program will leave them eligible for licensure in their state and also satisfies requirements for education credentials for public school employment if that is the route they wish to go.
A properly accredited school and the program are also of paramount importance, as it signifies quality and academic excellence. Graduate programs in communicative disorders can be accredited by the Council on Academic Accreditation in Audiology and Speech-Language Pathology.
Program Cost
Much like undergraduate degrees, program costs for MCD degrees can fluctuate based on many factors. Students can expect to pay for tuition costs, mandatory school fees, and course materials such as textbooks. Financial aid options, including loans and scholarships, are typically available to well-qualified applicants.
For example, tuition for the Master of Science in Communicative Disorders through California State University, Northridge is estimated at $52,416. Additional fees, such as application and graduation fees, are not included in this figure, nor are course supplies.
Program Length
With classroom-based lecture courses, internships, and clinical experiences required, most online master's in communicative disorders programs take at least 2 years to complete, with some requiring 3 years of study. While online courses are prevalent, students will generally have to be available for a certain number of hours per week for the clinical field experience portion of the program, which must be completed in person. Most programs culminate in a master's thesis or field study project.
Admissions Requirements
While each school will have its own admissions requirements, most include the following in order to be accepted into an MCD program:
Bachelor's degree in a related field, such as speech-language pathology (students with undergrad degrees in unrelated fields may be required to take more prerequisite courses)
Successful completion of all prerequisite courses with a grade of 'C' or better
Satisfactory scores on GRE/MAT
Minimum undergraduate GPA of 3.0
Classes and Courses
Enrolled MCD students take a series of courses designed to help them understand and analyze a host of communicative disorders. These courses are rounded out with clinical experiences and internships which provide hands-on training.
To provide an example, some of the courses and seminars required for the online Master of Science in Communication Disorders at Western Kentucky University include:
Early Intervention in Speech-Language Pathology
Voice Disorders
Dysfluency
Cognitive Linguistic Disorders
Rehab Audiology
Seminar in Phonology
A master's in speech-language pathology program includes online or classroom didactic coursework and clinical practice hours in which students put their skills to work in real-life supervised clinical
experiences. Following is a sample of typical master's in speech pathology classes, which are included in Boston University's Master of Science in Speech-Language Pathology program:
Speech Sound Disorders
Research Methods
Models of Language
Language Sampling Analysis
Evaluation & Diagnosis in Speech Pathology
Hearing Practicum
Cognition & Neural Bases
Clinical Reasoning
School-Age Language Disorders
Preschool Language Disorders
Aphasia
Dysphagia
Augmentative & Alternative Communication
Online Master's in Communication Disorders Program Specializations
While schools tend to offer general communicative disorders programs, some will allow specializations. Speech-language pathology is the most common specialty in MCD programs. Audiology was a popular master's degree specialty at one time, but within the last decade, it was phased out in favor of the Doctor of Audiology (Au.D.) program, which is the new educational requirement for entry-level audiologists.
Speech-Language Pathology
The speech-language pathology pathway trains students for clinical practice and research in the speech and language pathology field, where they will evaluate, diagnose, and treat children and adults with communicative and/or swallowing disorders. The course curriculum for this specialty focuses on working on communication techniques in a compassionate way, taking into consideration the client's unique circumstances. Within this specialty, students may be able to sub-specialize in augmentative and alternative communication (AAC) or autism by taking some extra courses. Upon graduating from this MCD program, students are eligible for certification and licensure as speech-language pathologists and can find employment in schools, healthcare settings, and as part of interdisciplinary teams.
Read more in our Essential Guide to Speech Langauge Pathology.
Advantages of Online Master's in Communication Disorders Programs
Online MCD programs have cropped up across the country in order to offer working professionals the chance to earn their master's degrees. These distance-learning programs offer flexibility, convenience, and even affordability. Online learners do not generally need to worry about the expenses of commuting to class or relocating. While some portions of the online MCD programs do have to be arranged locally and attended in person (such as internships and clinical experiences), many consider the ease of taking the bulk of the program online a major draw.
Colleges That Offer Accredited Online Master's in Communication Disorders and Master's in Speech Pathology Programs in 2023
Select Your State:
California
School
Contact Information

California State University - Northridge

18111 Nordhoff Street

Northridge

,

CA

91330

(818) 677-3332
Colorado
School
Contact Information

University of Northern Colorado

501 20TH ST.

Greeley

,

CO

80639

(970) 351-2734
Florida
School
Contact Information

Nova Southeastern University

3301 College Avenue

Fort Lauderdale

,

FL

33314

(800) 541-6682
Idaho
School
Contact Information

Idaho State University

921 South 8th Avenue

Pocatello

,

ID

83209

(208) 282-2150
Kentucky
School
Contact Information

Western Kentucky University

1906 College Heights Blvd

Bowling Green

,

KY

42101

(270) 745-5173
Massachusetts
School
Contact Information

Emerson College

120 Boylston Street

Boston

,

MA

02116

(855) 997-0407
New York
School
Contact Information

New York University - Steinhardt

82 Washington Square East

New York

,

NY

10003

(888) 698-0462
North Carolina
School
Contact Information

East Carolina University

E 5th Street

Greenville

,

NC

27858

(252) 328-6131
Ohio
School
Contact Information

University of Akron

302 Buchtel Common

Akron

,

OH

44325

(330) 972-7111

University of Cincinnati

3225 Eden Avenue

Cincinnati

,

OH

45267

(513) 558-8501
Texas
School
Contact Information

Texas Woman's University

304 Administration Dr.

Denton

,

TX

76204

(940) 898-2025
Virginia
School
Contact Information

James Madison University

800 S. Main St.

Harrisonburg

,

VA

22807

(540) 568-6211
Wisconsin
School
Contact Information

University of Wisconsin - Eau Claire

105 Garfield Avenue

Eau Claire

,

WI

54702

(715) 836-4636