Online Master's in Communication Studies Programs in 2024
With a keen interest in general communications and a passion for higher education and teaching, a master's in communication studies may be your graduate-level option. Many schools offer this master's degree, which gives students a broad foundation in high-level communication theories and practices. Some students in this field choose to go on to earn doctoral degrees and/or teach in the discipline. In any event, choosing a school with a quality online master's in communication studies program is paramount, as it will set the stage for your future career.
A master's degree in communication studies can lead to careers in:
Education/teaching/research
Publishing
Public relations
Advertising/Marketing
Media
Consultancy
Government and non-profits
Sales
For those concerned about going back to school, master's level communication studies programs are offered in various formats, from traditional classroom-based to online. This allows students to fit their education into their busy lives and schedules.
2024 Best Online Masters in Communication Studies Programs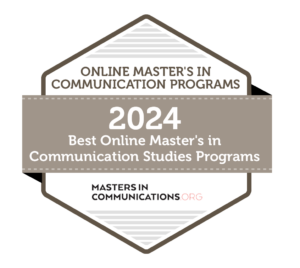 With educational and business/organizational applications, an online Master's in Communication Studies is a jack-of-all-trades degree. Finding a great online program is made more accessible with our rankings, where we've considered costs, accessibility, program features, and more to narrow down our top choices for your consideration. Read on to see our rankings for Best Online Master's in Communication Studies programs for 2024.
#1) WEST VIRGINIA UNIVERSITY - MORGANTOWN, WV

The online Master of Arts program in Communication Studies at West Virginia University offers two distinct emphases-one in Corporate and Organizational Communication and another in Theory and Research-tailored to diverse career aspirations. The Corporate and Organizational Communication emphasis caters to working professionals, providing online instruction to enhance communication skills and effectiveness in various professional settings. On the other hand, the Theory and Research emphasis aims to qualify students for roles in education, industry, and government institutions, focusing on teaching communication studies or pursuing advanced training for a doctorate. Both emphases contribute to the university's commitment to providing high-quality education in the dynamic field of Communication Studies.
Learn more about WVU's offerings here and here.
Highlights:
Typically completed in 1-2 years, depending on the track
No GRE/GMAT or letters of recommendation required
Asynchronous online courses
#2) MINNESOTA STATE UNIVERSITY - MANKATO, MN

The online Master of Science in Communication Studies at the University of Minnesota, Mankato, is designed for students with a clear career focus in business or industry. The program emphasizes critical areas such as communication theory, research methods, organizational communication, conflict management, and culture and relationships. Students round out their academic journey with a practical component, choosing between an internship or an Alternate Plan Paper, ensuring that the knowledge gained directly applies to their chosen career path. This program offers a comprehensive curriculum to prepare students with the skills and insights necessary for success in diverse professional settings.
Learn more about MNSU Mankato's offering here.
Highlights:
It can be completed in 2 years
Fall, Spring, and Summer start dates
An in-person option is also available
#3) UNIVERSITY OF ALABAMA - TUSCALOOSA, AL

The University of Alabama's online Master of Arts in Communication Studies program, specializing in Organizational Leadership, offers a comprehensive curriculum integrating communication theory with organizational leadership principles to enhance communication and leadership skills. Whether aspiring to advance within a current company or seeking a career change, the program focuses on developing dynamic communication skills for various contexts, fostering critical thinking, creating compelling messages for diverse audiences, and understanding the integral role of communication in organizational leadership. With 30 credit hours, the program includes 12 hours of core courses, 12 hours of specialization courses, and 6 hours dedicated to a professional, academic, or research track, allowing students to tailor their studies to individual interests. This online MA program equips students with the knowledge and skills to excel as effective communicators and leaders in various professional settings.
Learn more about the University of Alabama's offerings here.
Highlights:
24/7 tech support
Military-friendly Yellow Ribbon school
Work-at-your-own-pace format
Choosing an Online Master's in Communication Studies Program
With the abundance of online graduate-level communications studies programs, narrowing them down may seem nearly impossible. However, key assurances should help you feel confident about choosing the right school. Be sure to consider the following when researching schools with master's in communication studies programs:
Accreditation
Those interested in entering a master's of communications studies program should look for a properly accredited school. A few regional accrediting associations to watch for are the Accrediting Commission for Schools Western Association of Schools and Colleges, and the Higher Learning Commission. Accredited programs are generally the most trustworthy, and you don't want to gamble on your education.
Program Cost
The total expenses for an online master's in communication studies program depend on several factors, including location, type of school, and more. Students will need to cover the costs of tuition, course materials, and any other mandatory school fees. For example, the Master of Arts in Communication Studies degree through the University of Alabama's Bama by Distance online program will cost you roughly $420 in tuition per credit hour, with 30 credits required.
Online master's in communication programs also save students money in transportation costs, such as gas, parking, and/or public transportation expenses.
Program Length
Most online master's in communication studies programs require 30-36 credit hours. Typically designed for working professionals, some online programs are broken into 8-week sessions. Generally, students can complete these online programs in 1-2 years, depending on how many courses they can take.
Admissions Requirements
The following requirements will generally need to be met to gain admission into an online master's of communication studies program…and remember, exact requirements vary by school:
Bachelor's degree from an accredited 4-year college or university
Minimum GPA of 3.0
Official transcripts from all universities attended
Personal goal statement or essay
Classes and Courses
The curriculum of a master's in communication studies program will consist of courses that culminate in a final capstone project or thesis. Class titles may be similar to the following, which are offered as part of Stevenson University's online master's in communication program:
Communication Theory and Applications
Research Writing and Methods
Communication Ethics in the Public Sphere
Conflict Communication and Leadership
Contemporary Organizations and Communication
Advantages of Online Master's in Communication Studies Programs
An online master's in communication management is convenient and ideal for many potential grad students. Taking courses from home, on your schedule, is a life-saver for many working professionals and those with family obligations who wish to complete their graduate degrees. Aside from the flexibility, online options are typically less expensive overall, as students don't have to deal with the transportation costs of commuting and parking. An online master's in communication management program is also essential for those in more rural settings who don't have access to a nearby university. Many students appreciate utilizing technology to complete this degree in a way that fits into busy lifestyles.
Colleges That Offer Accredited Online Master's in Communication Studies Programs in 2024
Select Your State:
Alabama
School
Contact Information

University of Alabama

624 Paul Bryant Drive

Tuscaloosa

,

AL

35487

(205) 348-0089
Florida
School
Contact Information

University of Miami

5100 Brunson Drive

Coral Gables

,

FL

33124

(305) 284-2265
Maryland
School
Contact Information

Stevenson University

100 Campus Circle

Owings MIlls

,

MD

21117

(877) 531-7118
Minnesota
School
Contact Information

Minnesota State University, Mankato

Programs

201H Armstrong Hall

Mankato

,

MN

56001

(509) 389-5511
Pennsylvania
School
Contact Information

Edinboro University

310 Scotland Road

Edinboro

,

PA

16444

(814) 732-2856
Texas
School
Contact Information

Sam Houston State University

Huntsville

,

TX

77341

(936) 294-1971
West Virginia
School
Contact Information

West Virginia University

108 Armstrong Hall, P.O. Box 6293

Morgantown

,

WV

26506

(304) 293-3905
Organizations for Communication Studies Community