Master's in Communication in Wisconsin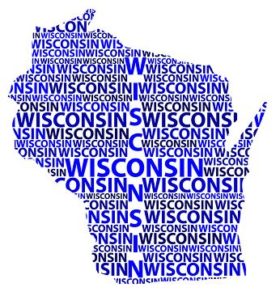 Wisconsin is one of the more underrated states for postsecondary education and a big reason why is the University of Wisconsin system. A group of 26 campuses, the UW system is one of the largest public education systems in the country and it has an excellent academic reputation as well. No, the state will never offer interested students as many options as a state like California or New York might, but with five schools (including four in the UW system) offering graduate education in communications, there is no shortage of opportunities.
Also, Wisconsin has a thriving professional landscape for communications professionals. The state of Wisconsin is looking for a marketing specialist with advanced education in communications and the state health system is also looking for digital communications and marketing specialists. There are also a number of private businesses including but not limited to; SkyDive Milwaukee, The Mark Travel Corporation, Krause Financial Services and Uline that are looking for communications experts. A less heralded but popular landing spot for communications professionals in Wisconsin are some of the healthcare clinics and hospitals in the state. These organizations are always looking for effective communications experts.
But when it comes to education, there are five options for a graduate degree program in communications. Here is a quick primer on each.
Milwaukee Master's in Communication Programs
Marquette University
The only university on this list that isn't part of the University of Wisconsin System, Marquette University and its Diederich College of Communication are widely recognized as one of the best and most prestigious schools of communication in the Midwest. Just within the college, there are multiple tracks for students to take.
What to Know: Students that choose to pursue a Master of Arts in Communication degree at Marquette get to choose from two specializations: Communication professions and society or Digital communication strategies. The prior specialization is structured such that courses are non-lecture proseminars designed to allow students to interact with faculty members through discussion-based class formats. The idea is that the specialization will prepare students for a leadership position in communications or a doctoral degree.
The digital communication specialization is a little bit more tangible and is designed to teach students how to create digital content, how to plan digital marketing strategies and how to use different digital marketing tools.
What Does It Cost?: Students have the option to choose a thesis track program, which requires just 30 credits for graduation; or the project track program, which requires 36 hours for graduation. Using Marquette's published rate of $1,025/credit hour, this program would cost between $30,000 and $37,000 in total. Marquette does offer ways to mitigate the cost such as becoming a research assistant or teaching assistant, scholarships, fellowships, and student loans.
Anything Else?: Students can also choose a Master's degree in Corporate Communication that is a marriage of communication classes with business classes and is obviously designed to prepare students for communication roles in the corporate world and prepares students for such with a wide variety of course work.
University of Wisconsin - Milwaukee
The University of Wisconsin-Milwaukee is a bit different in the way it handles its graduate degrees in communications. Not only does it offer a Master's degree in the subject and a PhD in the subject, but it also offers many graduate certificates in related fields to interested students.
What to Know: A faculty advisor is assigned to all students to work with them to identify areas of interest and develop a specific course of study within the program. The most common option is the 15-credit concentration in Rhetorical Leadership. Students don't need to choose a prescribed course of study as the school offers a variety of elective classes in different disciplines so students can mold their own path. The school even allows students to earn a maximum of 6 credits in courses outside of communications that would still count towards the student's degree. The program is, according to the school website, consistently ranked among the Top 10 programs in the country and that is in part because of the program's commitment to involving research, etc.
What Does It Cost?: UWM is another school that has reciprocity with the state of Minnesota, meaning that costs are split in to three different groups. For example, students take a full course load will be expected to pay $4,200 if they are a Wisconsin resident, $6,427 if they are a Minnesota resident and $9,121 if they are from a different state. As with every school, there are fellowships and assistantships that can help students offset the tuition cost.
Anything Else?: In addition to the concentration in Rhetorical Leadership, UWM also offers concentrations in other areas, including Mediation and Negotiation, Professional Writing and Communication and Teaching and Learning in Higher Education. Each of these requires 15 course credits to earn and students can choose to mix and match pieces of each curriculum as it suits them.
University of Wisconsin - Whitewater
UW-Whitewater is just an hour or two west of Milwaukee but it is one of the lesser known state schools in Wisconsin. It is also the only school in the state that offers a Master of Science in Communication instead of a Master of Arts.
What to Know: The MS in Communication at UW-Whitewater is based on practitioner-oriented course of study that explores the relationship between communications theory and practice. The study includes a look at interpersonal, small group, public and mass communications and is designed help students identify and predict trends in communication, help students learn to collect meaningful data points to help explain these trends and explore the relationship between communications and technology.
What Does It Cost?: As a state school, UWW has different costs for students from Wisconsin and students outside of Wisconsin. According to the university website, Wisconsin residents can expect to pay roughly $9,000 in tuition and $22,500 in total after accounting for things like housing/meals as well as supplies. For out-of-state students, the tuition price is more than double ($18,600) and the total cost comes out to $32,284, which is a pretty good deal for students not from the state of Wisconsin.
Anything Else?: To graduate, UWW has an oral component to its evaluations. The university will ask students to present oral arguments on a pre-selected group of topics and defend certain positions. The idea is for students to demonstrate what they have learned and proved their communication skills in practice.
University of Wisconsin - Madison
The University of Wisconsin - Madison is the state's flagship university and the largest university in the state, so it makes sense that it would offer a Master's degree program in communications. There is only one degree track offered but there are unique aspects of the degree program that are worth covering.
What to Know: The Master's degree program in Communication Arts offers four distinct areas of graduate study, each with specific curricula and requirements and those areas are: Communication Science; Film; Media & Cultural Studies; and Rhetoric, Politics, and Culture.
Graduate study in communication science is unique in that it is more geared towards the interests and strengths of the individual students and students are expected to master topics including; social influence; computer-mediated communication; human development; or political communication. flexible and tailored to the individual.
Film is straightforward but the degree path focuses on motion picture history, theory, the study of different film forms, courses in film production and the study of filmmakers and the film industry. The hope is that students receive a well-rounded education in film production and film history and theory.
The media and cultural studies program studies the economic, historic, social and political implications of the media on society and culture. Students study how the media impacts culture and everyday life and produces research to back up its findings and identify patterns and trends.
Graduate work in rhetoric focuses on three areas: discourse, theory, and method. The idea is to understand how discourse and conversation and disagreement has an impact on culture and politics. Students study past and present trends in discourse and explore everything from religion to sexuality and race and globalization.
What Does It Cost?: As a state school, UW-Madison charges different rates for different students. It also has a reciprocity agreement with the state of Minnesota, meaning those students get discounts as well. For example, a Wisconsin resident taking a full course load will pay almost $5,000 per semester whereas a non-Wisconsin resident would pay nearly double that and a Minnesota resident would pay $6,400 roughly. There are obviously fellowships, scholarships and assistantships available to help offset the cost.
Anything Else?: Most students at most schools require a writing sample, but UW-Madison requires a 15-20-page writing sample so be prepared. The rest of the admissions requirements are straightforward and relatively standard, but this is specific to the school.
University of Wisconsin - Stevens Point
A few hours northwest of Milwaukee lies the other lesser known school in the UW system that offers a Masters' degree in communications - the University of Wisconsin - Stevens Point. The school may not be well-known but it has a sterling academic reputation and its graduate school of communication is no exception.
What to Know: The Master's degree program at UWSP spans three fields: interpersonal/organizational communication; public relations; and media studies. The purpose behind splitting the program into three fields is to make sure that students get a comprehensive understanding of the discipline and can use that understanding to carve out a professional career in several separate roles within communications. Students to enroll either full-time or part-time and may choose between a 31-credit thesis or 31-credit non-thesis, project-based option. Students can also work collaboratively with faculty on projects and the school has a pair of brand-new research labs to provide graduate students with those opportunities. The Media Lab is designed to help with students interested in film and photos and video. The Research lab is for interviews, focus groups and is outfitted with new data analysis software.
What Does It Cost?: Another school with Minnesota reciprocity, UWSP charges Wisconsin residents $4,650 per full-time semester, it charges Minnesota residents $5,185 per full-time semester and it charges non-residents $9,353 per full-time semester. Full-time students may apply for one of the nine graduate instructional assistantships available each school year and those positions pay a stipend of $16,000 per year. There are several other scholarships and financial aid packages and research grants available to students who are interested.
Anything Else?: Research labs are not uncommon for schools of communication but the fact that UWSP has two is somewhat surprising. These labs give the students a distinct advantage when it comes to producing multimedia, research, or data for projects. It also equips students with technology and helps them adapt to a new media landscape.
Wisconsin Colleges That Offer Accredited Master's in Communications Programs
School
Contact Information

Concordia University Wisconsin

Programs

12800 N. Lake Shore Drive

Mequon

,

WI

53097

(877) 391-5835

Marquette University

Programs

1131 W. Wisconsin Avenue

Milwaukee

,

WI

53233

(414) 288-7145

University of Wisconsin - Madison

Programs

821 University Ave.

Madison

,

WI

53706

(608) 263-4898

University of Wisconsin - Milwuakee

Programs

3203 N. Downer Ave.

Milwaukee

,

WI

53211

(414) 229-6569

University of Wisconsin - Stevens Point

Programs

1101 Reserve Street

Stevens Point

,

WI

54481

(715) 346-3409

University of Wisconsin - Whitewater

Programs

Roseman 2013

Whitewater

,

WI

53190

(262) 472-1006

University of Wisconsin – Stout

Programs

221 10th Ave. E

Menomonie

,

WI

54751

(715) 232-2693