Master's in Communication in Hawaii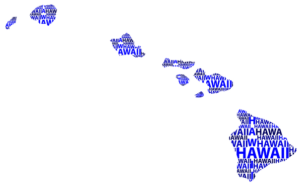 For one of the smallest and least populous states in the entire country, Hawaii has a sizable postsecondary education landscape and graduate degree programs in communications are no exception. Sure, there are only two schools in the entire state that offer Master of Arts degrees in Communication and the opportunities will be less plentiful than they would be in California or Washington. But Hawaii is still among the country's leaders in state spending per student on higher education (more than $8,000) per student and its residents continue to remain some of the most-educated and least indebted.
The state of Hawaii has exactly two public, doctoral universities within its borders but only one of them - the University of Hawaii at Manoa - offers graduate education in Communications specifically. The other school that offers a similar degree is Hawaii Pacific University, a private liberal arts school with more than 7,000 enrolled students from a wide-range of backgrounds and origins. The fundamental curriculum of the two programs will be very similar. There will be core classes and advanced classes that will be mostly the same at each of the two schools. But there are also plenty of differences including but not limited to: cost; pre-requisites; networking opportunities and electives.
This isn't like picking a university for four years of undergraduate study. Picking a graduate school needs to be more thought-out, because the focus of the school will be very narrow and it is such an important investment, that it needs to be considered from all angles.
But we aren't here to talk about the post-degree world just yet. We are here to talk about graduate degree programs in education. Here is a brief primer on the two programs.
University of Hawaii at Manoa
The state's flagship university, the University of Hawaii at Manoa is home to more than 18,000 students and is the largest and most prestigious university on any of the islands. Founded in 1907, the university's School of Communications is housed within the College of Social Sciences and it offers four types of degree or certificate. The school offers a standard Bachelor's degree program and a standard Master's degree program in Communications. But it also offers a certificate program in Telecommunications and Information Resource Management for students with at least a Bachelor's degree and it also offers a PhD program in Communication and Information Sciences.
But for our benefit, let's talk about the Master's degree program. Applicants are not required to have an undergraduate degree in communications (although they will need an undergraduate degree of some kind) and students will only be accepted into the program in the fall semester. Applicants are expected to produce a statement of academic objectives and three letters of recommendation (from former professors if possible). To graduate with the degree, students need to complete a minimum of 33 credits with at least a 3.0 GPA and they will be expected to take a mix of core competency courses and electives and submit a thesis paper on a topic of their choosing. The school even encourages students to travel to conferences and workshops and seminars as an advocate for the program and offers per-diem funding on a competitive basis.
According to the school, recent graduates have been employed as college-level instructors, managers, consultants, and as specialists in social action programs and research units. Many graduates continue to a professional school or PhD program.
The most important distinction may be that as a state university, the University of Hawaii at Manoa is going to be considerably cheaper (especially for Hawaii residents) than Hawaii Pacific University. That doesn't necessarily make the program better or worse. In fact, both schools have pros and cons. But if cost is a mitigating factor, there will be a large discrepancy in tuition between the two schools.
Hawaii Pacific University
The liberal arts university that is also on Honolulu, Hawaii Pacific University was only found in 1965 but has grown quickly. It already has two campuses (although communications students will be in the downtown Honolulu campus) as well as an Oceanic Institute and a Military program. It has rapidly become one of the most diverse student bodies at any school in the entire country and that is one of the tangible benefits of earning a degree in communications at the school. The Master of Arts in Communication degree program is housed within the College of Liberal Arts and its requirements for both admission and graduation are very like those at the University of Hawaii at Manoa.
HPU also requires students to submit a 500-word statement of academic purpose, three letters of recommendation, requisite transcripts, test scores, and even a resume. The required number of credits for graduation is also 33 although students at HPU do take some additional courses in related fields such as journalism and graphic design and even web design. The program also requires students to complete two capstone courses which are almost entirely made up of thesis papers or projects. One of the unique parts of the program is that it offers a concurrent option, meaning students can apply to take undergraduate and graduate degree credits at the same time and work toward both degrees in a reduced period. Students will need to already be enrolled at HPU as an undergraduate and they will complete four graduate level courses, but the expedited process makes things easier for students who have a clear path in their minds. There are also a series of graduate assistantships that pay stipends for students that are interested.
The cost is decidedly more prohibitive. Students, regardless of their home state, will pay at least $30,000 to earn a graduate degree as a full-time student at HPU, which includes room and board. This is almost triple what the program would cost for Hawaii natives, and at least $10,000 more than it would be for an out of state student at the University of Hawaii at Manoa.
Hawaii Colleges That Offer Accredited Master's in Communications Programs
School
Contact Information

Hawaii Pacific University

Programs

1164 Bishop Street

Honolulu

,

HI

96813

(808) 544-0200

University of Hawaii - Manoa

Programs

2550 Campus Road, Crawford Hall 320

Honolulu

,

HI

96822

(808) 956-8881